Maxspect Jump 4K Gyre Flow Pump
Sold out
Original price
$450.00
-
Original price
$450.00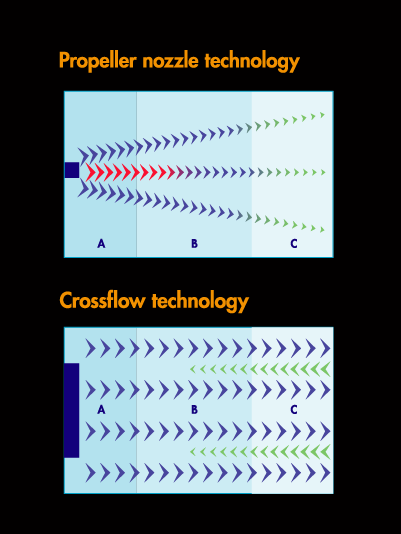 Propeller Nozzle Technology
  ①   Dead spots with relatively poor water movement.
  ②   Very strong flow in the center,making coral placement very difficult.
  ③   Very weak flow near the other end of the aquarium.
Cross Flow Technology
  ①   Virtually no dead spots.
  ②   Evenly distributed flow rate throughout the entire aquarium.
  ③   Water bounces back from the other side to create a full circulation.ie.generating "gyre flows".
Near-Silent Operation With Sine Wave Technology
Sine Wave Pattern
Electricity current alternates in a much smoother pendulum while using Sine Wave Technology
Sine Wave Technology Decibel Level
Traditional Pattern
Electricity current alternates in a very sharp pattern while using traditional Technology
Traditional Technology Decibel Level
Achieve full circulation within the aquarium with ease
Integrated Controller with Large Display
Fully Programmable 24 hours gyre flow cycle
  Constant Speed Mode
  Pulsing Mode
  Gradual Pulsing Mode
  Random Mode
  Alternating Gyre Mode
24 hours gyre flow cycle illustrated
Model
MJ-GF2K
MJ-GF4K
Dimension
L223 x W72 x
H38mm
L8.78 x W2.83 x 
H1.5inch
L308 x W80 x
H43mm
L12.1 x W3.15 x 
H1.69inch
Power
Consumption
25w
45w
Flow Rate
7,000 L/H
(1,849 US Gal/H)
15,000 L/H
(3,962 US Gal/H)
Suitable for
Aquarium
50-250L
/13-66 US Gal
50-450L
/13-118 US Gal
Weight
(Pump Unit)
457g/16.1oz
711g/25.1oz
Glass 
Thickness
: Standard
15mm/0.59inch
20mm/0.79inch
Power
Supply
Unit
Input: 100-240V/
50-60HZ
Output: 24V/2A
Input: 100-240V/
50-60HZ
Output: 24V/2.5A